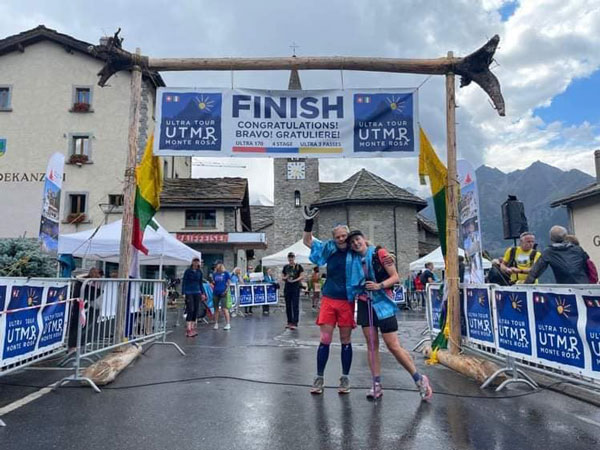 Ian Oldham and Caroline Graham headed off for another alpine adventure at the start of the month, as they took part in the Ultra Tour Monte Rosa. This is a 170K stage race, with a staggering 11,620m of ascent, to be covered over 4 days. It starts in Grächen in Switzerland and follows a classic long-distance path, leading around the Monte Rosa Massif, making a complete circuit of the Mischabel Peaks and the 4000m summits of the Nadelgrat ridge.It is described as 'more technical and more wild' than the UTMB! Ian injured his knee on day two, but managed to run and hobble round the rest of the course with Caroline: 'a holiday filled with highs and lows, literally and metaphorically!'Congrtaluation to Ian and Caroline on another epic achivement.
In complete contrast, Jess Young and Liz Sowter completed 20 laps of a park in Darlington on September 4th, at the South Park 20. Jess had a fantastic run and produced a big PB, finishing as 2nd lady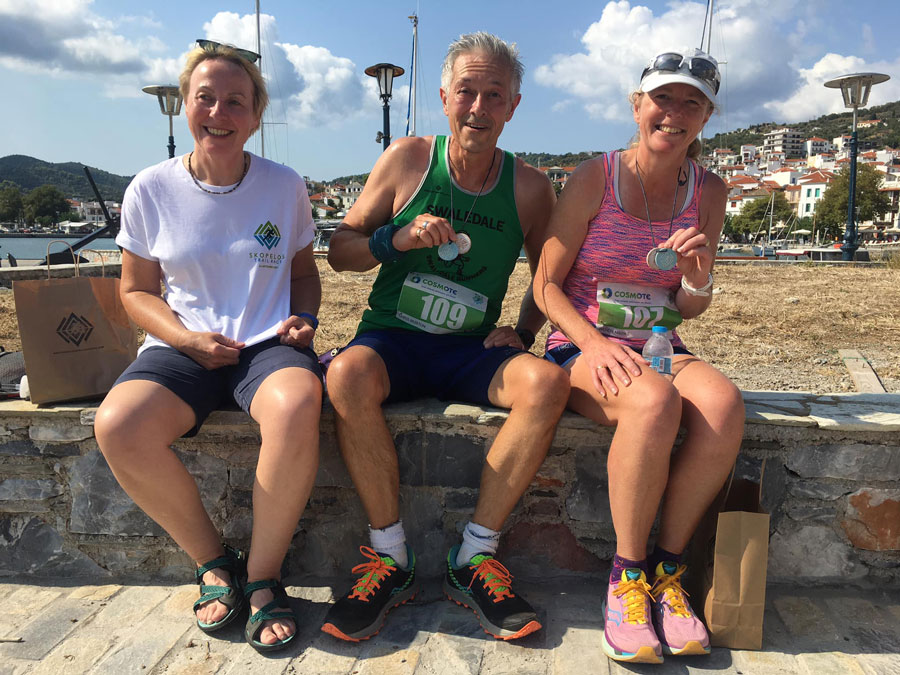 in 2.24.24. Liz could see the race between the top three ladies evolving as they kept lapping her, but she achieved her objective of going under 3 hours, finishing in 2.59.59! While this may not be the most scenic of runs, both found it very useful for marathon preparation and it was a friendly, well-organised event.
On September 5th Jim Coldwell and Tim Grimwood took part in the Burnsall fell race, which is one of the oldest races in the fell running calendar. It covers a distance of 1.5 miles, with 800ft of ascent. Tim was 13th in 16.21 and Jim was 75th in 24.44.
On September 10th Chris and Angela Muston tackled steep slopes in a very different location, on the Greek island of Skopelos. Chris chose the half marathon (21K with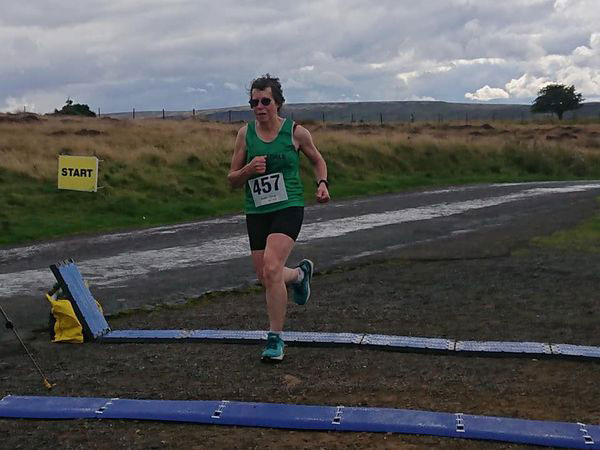 757m of ascent), where he finished 18th overall out of 34 in 2.27.32. He describes the route as 'hard uphill on the first half, virtually vertical climbs towards the top of Palouki. Stones, sage plants, pine scented tracks and a nice downhill second half'. Angela opted for the 5K (with 112m of ascent) where she came 24th out of 30 overall.
On September 11th two Swaledale Runners completed the Castleton Show 6, which is described as 'a road race for fell runners or a fell race for road runners'. Martin Randall, supporting a friend and recovering from an ankle injury, finished in 54.06, while Martha McBarron was not far behind, finishing as 5th lady and 1st FV60 in 55.53, an excellent achievement on this hilly course.
On September 12th Tim Grimwood took part in the Lake District Mountain Trial, a classic mountain navigation race. His verdict on the race was 'tough day at the mountain trial, perfect visibility but a very sweaty day. Mostly happy with my route choice and time but struggled to get going at times.' He completed 23.5 miles with 7,943ft of ascent, finishing 35th in an official time of 6.29.39.
On the same day Andrew Fletcher took part in the Tholthorpe 10K. He finished in 44.34 as 3rd V60, adding to his list of good results for the age-graded club championship. This was also the day of the long awaited Great North Run. First home for the club was Andrew Fahey in 1.32.32, followed closely by Iain Kerr, in a PB of 1.32.55. Roger Brisley, recently returned from serious injury, ran remarkably well to finish in 1.53.52. John Cantrell kept his eyes on the pacer and ran with determination to finish in 1.59.10. It is likely that Lucy Tulloch would also have finished under 2 hours, but she generously stopped to help a collapsed runner and came in at 2.02.01. Carrie Morrell was next in 2.21.05, followed by Sheila Cantrell in 2.25.04. Stuart Clarkson completed his 20th GNR, this time supporting a friend on her first one. They finished in 2.47.23. Just behind them, Claire Hewitt finished her first (and she reckons last ever) GNR in 2.50.02, supported by her husband Simon in 2.50.04.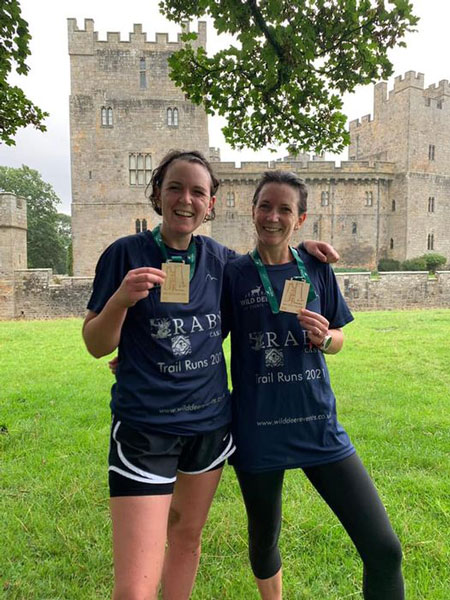 On August 18th Roger Brisley and Julia Spittle took part in the Sessay Swift, a fast flat 6K run which has become increasingly popular and attracted over 300 runners this year. Both Roger and Julia are returning
from injury and were pleased to finish in 31.13 and 33.26 respectively, both round about the middle of their 10-year age categories.
On August 22nd four Swaledale runners headed for Raby Castle to take part in the multi-terrain races organised by Wild Deer events. Isla Collinge had an excellent run to finish the 10K as 3rd lady in 54.42, not too far behind her sister who came in 1st! The others chose the half marathon distance, where Martin Randal was 9th in 1.49.26, followed by Rebecca Pickles in 2.17.43 and Martha McBarron (1st FV60) in 2.25.02.
Runners were spoiled for choice with races over the bank holiday weekend. Martin Randall and Liz Sowter headed to Stanhope, for a hilly 10 mile race organised to raise money for a local charity, Quinn's Retreat. Martin was 14th in a speedy 1.16.44 and Liz was 4th lady in 1.31.17.
In the evening Martin was back in action at the West Witton Fell race. This was a very successful evening for the 'green machine', with Tim Grimwood winning the race ahead of some tough competition in 33.55. He is now the proud holder of a trophy which bears the names of triathletes Alistair and Jonny Brownlee. Not to be outdone, the ladies picked
up the top two trophies, with Heather Hodgson leading the way and Ros Blackmore hot on her heels. Swaledale results: Tim Grimwood 1st 33.55, Neil Bowmer 13th 42.41, Mike Keavney 15th 43.34, Martin Randall 18th 44.22, Jim Coldwell 19th 47.24, Heather Hodgson 47.59 1st lady, Ros Blackmore 48.50 2nd lady..
While Martin was ambitious in taking part in two consecutive races, Neil Bowmer and Ros Blackmore went one better and did three! Fountains Abbey Parkrun and the West Witton fell race on Saturday were followed by the Saturn Running 7 hour event Durham, where they both chose to complete the marathon distance.
On Monday 30th Tim Grimwood and Jim Coldwell headed for the fells one again. In the Hebden sports fell race Tim Grimwood was 18th in 12.59 and Jim Coldwell 70th in 18.01.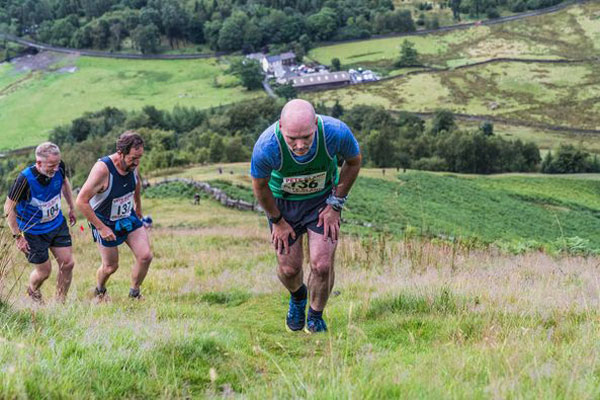 With Saturday's Turner Landscape race being cancelled as the result of a poor weather forecast, I was beginning to fear that 'proper fell running' was on its last legs. Luckily a text from Tim on Monday asking me whether I fancied a go at Steel Fell on Wednesday night has persuaded me otherwise. Steel Fell lies at the bottom end of Thirlmere and is a classic Lakeland up and down fell race. Registration was in a barn, race entry was free and the only kit requirement was that it 'might be a good idea to take a jacket' (it was teaming down when we arrived at the race). Luckily the weather cleared just as the race started and we were rewarded with fantastic views down to Thirlmere on the steep, grassy descent. Race results took the form of stickers on the barn door (another throwback to earlier, simpler times) and it turned out that Hannah Russel of Helm Hill had broken the ladies' record. For this achievement her prize was a choice between a can of lager (singular) or a bottle of cider (also singular). A wise choice of the cider meant the overall winner, Mark Lamb of Keswick, came away with the lager. Tim finished near the front in 15th place and I finished near the back in 54th from a small but high-quality field. This race reminded me of what fell races were like when I started many moons ago and represented all that is great about this sport. I am pleased to say that if you know where to look, proper fell running very definitely lives on.
On August 1st nine Swaledale Runners took part in the Darlington 10K, showing that not all our members are averse to running on flat tarmac! Results: Andrew Fletcher 44.29, James Cunnache 46.48, Mark Smith 47.25, Grace Gilpin 49.10 (2nd FV60), Annelie Whitfield 49.35 (3rd FV55), Niall Cheyne 50.07, Rebecca Pickles 51.28, Suzanna Allen 56.11, Carrie Morrell 1.06.39. On the same day Jo Coates travelled further afield to take part in the York 10K, which she finished in 1.17.52.
Like many club members, Avril Thresh has developed a taste for ultra-distances this year. She took part in the multi-lapped Saturn 50K in Durham, putting in a strong performance to finish in 6.36.26.
Over the same weekend Gary Young set himself the challenge of walking the length of Hadrian's Wall in one continuous outing. Supported by family and stalwarts Ros and Neil, he completed the 142K walk in an impressive if exhausting 32.34.17.
In contrast, Tim Grimwood tackled the BOFRA Farleton Knott fell race. In his best placing this season, he finished in 7th place out of 76 runners, around 2 mins 30 behind the winner.
On July 24th two Swaledale Runners completed the fearsome Lakeland 50, made tougher by the heat. Jess Young finished in an amazing time of 11.46.15, 19th female and 123rd overall. Simon
was feeling good, but chose to stick with a fellow runner, finishing in 14.46.06. Credit also goes to Ros Blackmore and Neil Bowmer, who spent around 22 hours at a checkpoint, encouraging and assisting runners.
Closer to home there was a good turnout at the James Herriot Trail run on July 25th, with some Swaledale Runners racing and others assisting the organisers with timing. Josh Westwood was first home for the club in 62.17 (21st overall) , followed by Iain Kerr in 64.49, Jim Coldwell in 75.53, Isla Collinge in 78.35, Heather Hodgson in 80.03 and Sam Metcalfe in 96.31. Conditions were dry, but this remains a challenging, hilly course.
Meanwhile Grace Gilpin took part in the Durham Coastal Trail half marathon. Despite getting stung by hornets she enjoyed the event and was 1st FV60, in 2.07.56.
On July 10th Tim Grimwood took part in the Wasdale Fell Race. This is organised by Cumberland Fell Runners Association and is also part of the Lakeland Classics Trophy. Covering a distance of 21 miles, with over 9000 feet of ascent, this is a tough race by anyone's standards. It was a hot day and Tim said he was left 'exhausted and wondering whether I enjoyed it or not'. There were some real stars of the fell running world at the race, so Tim did well to finish as 13th M40 and 59th out of 13o finishers, with many more failing to complete the course.
Congratulations also to one of our newest members, Kevin Bond, who was 33rd out of 208 at the Lakeland Trails Ambleside 14k in a time of 1.30.42.
On June 27th Tony Taylor took part in the Hardwolds 40, which is actually a 44 mile route from Beverley to Malton, following the Wolds Way. Heat and humidity made this particularly tough, but Tony ran strongly to
finish in 10.44.06, coming in 74th out of 167 finishers.
On the same day Stuart Clarkson tackled the Thirlmere Trot. This is a 24-mile high circumnavigation of Thirlmere Reservoir, with almost 6500 feet of ascent. The organisers describe it as 'hugely varied, with steep rocky climbs, moorland, bogs, lakeside single track and some of the best mountain trails in the Lakes'; Stuart, and no doubt many others, describe it as 'brutal'! Despite this Stu had a great day out, finishing in 7.56.17. Thanks to Route North photos for permission to use their photos.
On July 3rd Helen Nicholson headed south to take part in the Suffolk Trail Running Festival. She chose the solo 6 hour event, which involved running as many 5 mile laps as possible through the forest. She put in a great performance, completing 6 laps and finishing as 7th female out of 31. Meanwhile Simon Hewitt was running laps around Bramham Park, at the Enduro 24. His initial target was to complete a minimum of 50 miles and he did this in style, maintaining a good pace. During the night the area was hit by storms and runners had to be pulled off the course. After sitting in his car for 3 hours and snatching some sleep Simon hobbled out again at 6am to run another 25 miles! 75 miles in total: fantastic effort Simon!

Finally this report is just in from Ros Blackmore: 'We had a blast at the Saunders Lakeland Mountain Marathon this weekend. Clouds and showers made
the nav more challenging on Day 1 from Buttermere, but there was even a tiny bit of sunshine on Day 2. The overnight camp was at Seathwaite. We were 3rd in the Female Pairs on the Fairfield Score Class overnight, but we pushed hard on Day 2 and managed the highest score of all the Female Pairs on that day. Our final results were 2nd Females/18 and 3rd Vets (male and females)/39. Our overall placing in the race was 16/81. An exhausting but satisfying weekend's work. The Saunders would make a great introduction to Mountain Marathon events as there are both linear and score classes, some at beginner level.'
There was some great running from club members last weekend and the events they chose could not have been more different.

Tim Grimwood and Jim Coldwell took part in the BOFRA championship race at Kettlewell, a race which is just 1.4 miles in length, but with 550ft feet of ascent. According to race organisers 'a fast start is required to reach the gully which is usually a bottleneck before reaching the ridge, then run along the skyline to the cairn before a fast descent and a short section of scree'. Tim finished in 13.34, 13th out of the 80 men competing, and Jim was 64th in 20.25.

Jess Young took part in the Cowshed Backyard Ultra at Wheelbirks Farm Stocksfield This format, which is becoming increasingly popular, involves running 4.2-mile laps, starting a new lap every hour, precisely on the hour. Competitors keep going until they are timed out or choose to retire, until it gets to the 'last man standing'.
With plenty of ultra-experience behind her, Jess was able to finish each round comfortably with 10-15 mins to spare, by walking the ups and jogging the flats and downs. At 50 miles she felt herself starting to flag, but urged on by her husband Gary she persevered, knowing that there were only three other ladies left. Once it started to get dark there was just one other lady remining and she got timed out on the first full dark lap. Jess also slowed in the dark but managed to make it round another full dark lap at midnight with 4 minutes to spare, to finish as 'last lady standing'.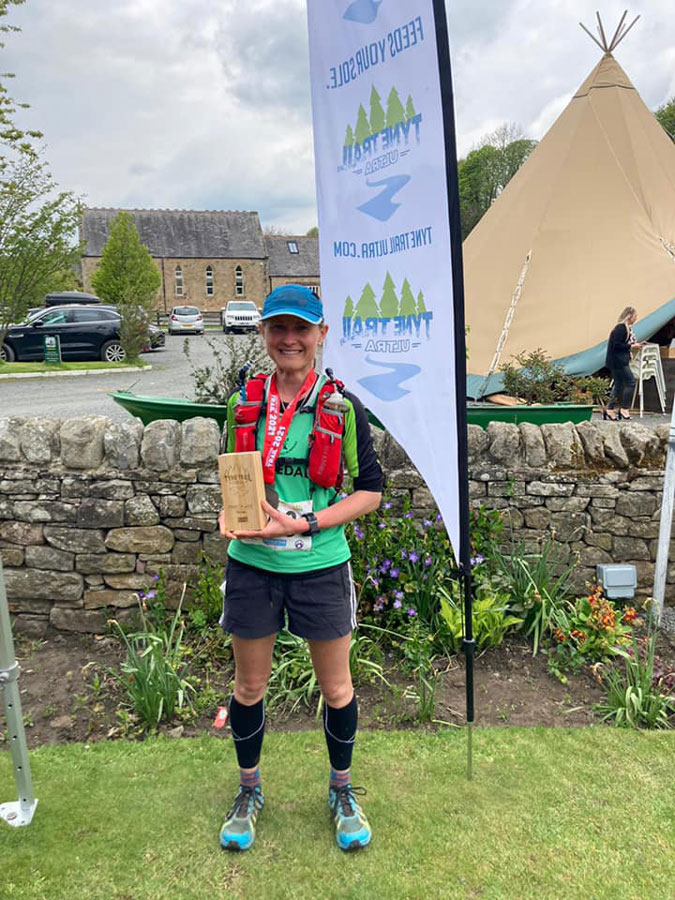 Congratulations to Jess Young who was 1st lady and 3rd overall in the Tyne Trail Ultra yesterday. She completed the 70K run in 6.52.57, just 32 minutes behind the fastest man.
'I really enjoyed the Cold Brew Events Tyne Trail Ultra today. The event ran like clockwork, yet had a very chilled and extremely friendly atmosphere.The route was beautiful, mainly on tracks and trails or through the fields. There were some quite long road sections which suited me. It was easy to navigate, easy to access aid stations and tracked. It was perfect for building up confidence for longer distances, as the ascent wasn't particularly big (2,250ft). I'll definitely have a look at other Cold Brew events'.