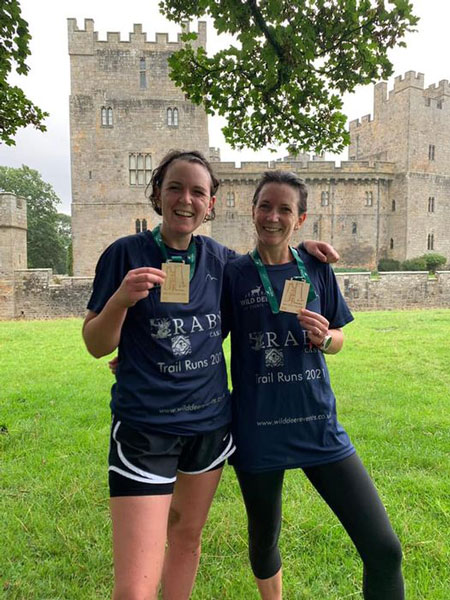 On August 18th Roger Brisley and Julia Spittle took part in the Sessay Swift, a fast flat 6K run which has become increasingly popular and attracted over 300 runners this year. Both Roger and Julia are returning
from injury and were pleased to finish in 31.13 and 33.26 respectively, both round about the middle of their 10-year age categories.
On August 22nd four Swaledale runners headed for Raby Castle to take part in the multi-terrain races organised by Wild Deer events. Isla Collinge had an excellent run to finish the 10K as 3rd lady in 54.42, not too far behind her sister who came in 1st! The others chose the half marathon distance, where Martin Randal was 9th in 1.49.26, followed by Rebecca Pickles in 2.17.43 and Martha McBarron (1st FV60) in 2.25.02.
Runners were spoiled for choice with races over the bank holiday weekend. Martin Randall and Liz Sowter headed to Stanhope, for a hilly 10 mile race organised to raise money for a local charity, Quinn's Retreat. Martin was 14th in a speedy 1.16.44 and Liz was 4th lady in 1.31.17.
In the evening Martin was back in action at the West Witton Fell race. This was a very successful evening for the 'green machine', with Tim Grimwood winning the race ahead of some tough competition in 33.55. He is now the proud holder of a trophy which bears the names of triathletes Alistair and Jonny Brownlee. Not to be outdone, the ladies picked
up the top two trophies, with Heather Hodgson leading the way and Ros Blackmore hot on her heels. Swaledale results: Tim Grimwood 1st 33.55, Neil Bowmer 13th 42.41, Mike Keavney 15th 43.34, Martin Randall 18th 44.22, Jim Coldwell 19th 47.24, Heather Hodgson 47.59 1st lady, Ros Blackmore 48.50 2nd lady..
While Martin was ambitious in taking part in two consecutive races, Neil Bowmer and Ros Blackmore went one better and did three! Fountains Abbey Parkrun and the West Witton fell race on Saturday were followed by the Saturn Running 7 hour event Durham, where they both chose to complete the marathon distance.
On Monday 30th Tim Grimwood and Jim Coldwell headed for the fells one again. In the Hebden sports fell race Tim Grimwood was 18th in 12.59 and Jim Coldwell 70th in 18.01.