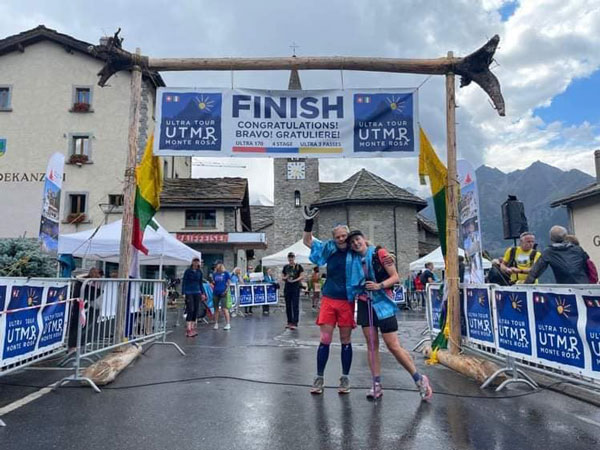 Ian Oldham and Caroline Graham headed off for another alpine adventure at the start of the month, as they took part in the Ultra Tour Monte Rosa. This is a 170K stage race, with a staggering 11,620m of ascent, to be covered over 4 days. It starts in Grächen in Switzerland and follows a classic long-distance path, leading around the Monte Rosa Massif, making a complete circuit of the Mischabel Peaks and the 4000m summits of the Nadelgrat ridge.It is described as 'more technical and more wild' than the UTMB! Ian injured his knee on day two, but managed to run and hobble round the rest of the course with Caroline: 'a holiday filled with highs and lows, literally and metaphorically!'Congrtaluation to Ian and Caroline on another epic achivement.
In complete contrast, Jess Young and Liz Sowter completed 20 laps of a park in Darlington on September 4th, at the South Park 20. Jess had a fantastic run and produced a big PB, finishing as 2nd lady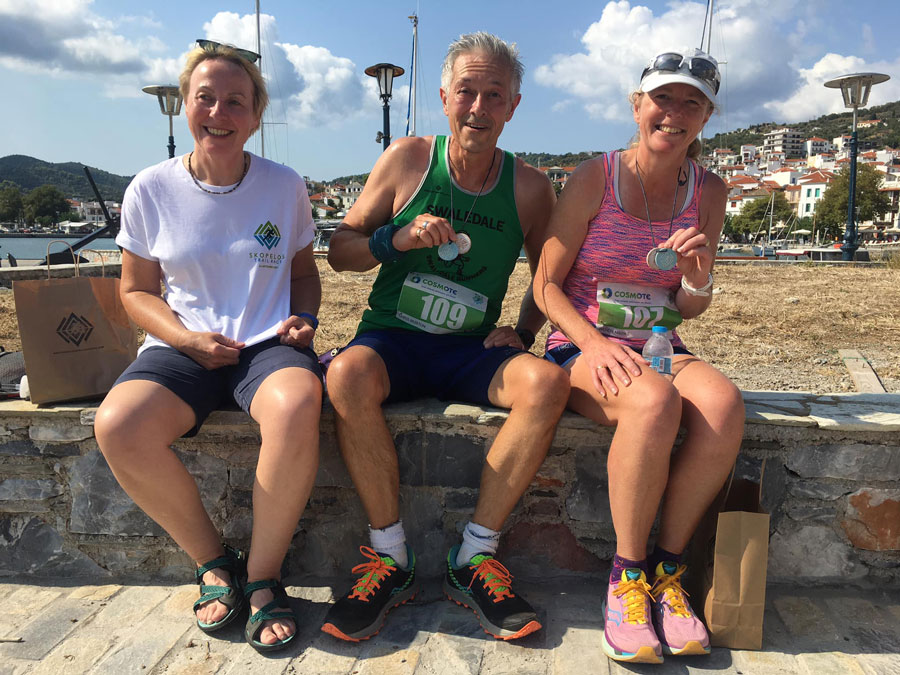 in 2.24.24. Liz could see the race between the top three ladies evolving as they kept lapping her, but she achieved her objective of going under 3 hours, finishing in 2.59.59! While this may not be the most scenic of runs, both found it very useful for marathon preparation and it was a friendly, well-organised event.
On September 5th Jim Coldwell and Tim Grimwood took part in the Burnsall fell race, which is one of the oldest races in the fell running calendar. It covers a distance of 1.5 miles, with 800ft of ascent. Tim was 13th in 16.21 and Jim was 75th in 24.44.
On September 10th Chris and Angela Muston tackled steep slopes in a very different location, on the Greek island of Skopelos. Chris chose the half marathon (21K with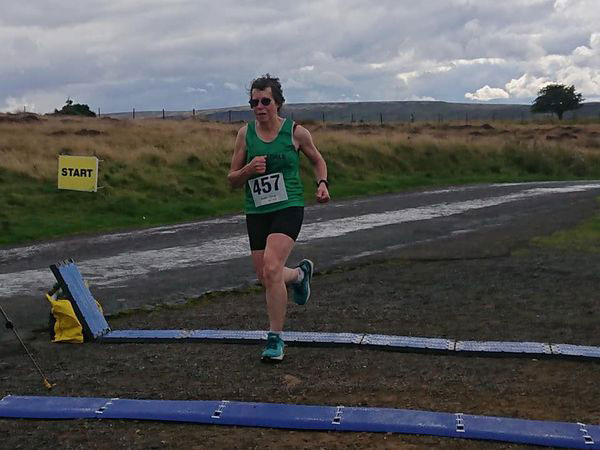 757m of ascent), where he finished 18th overall out of 34 in 2.27.32. He describes the route as 'hard uphill on the first half, virtually vertical climbs towards the top of Palouki. Stones, sage plants, pine scented tracks and a nice downhill second half'. Angela opted for the 5K (with 112m of ascent) where she came 24th out of 30 overall.
On September 11th two Swaledale Runners completed the Castleton Show 6, which is described as 'a road race for fell runners or a fell race for road runners'. Martin Randall, supporting a friend and recovering from an ankle injury, finished in 54.06, while Martha McBarron was not far behind, finishing as 5th lady and 1st FV60 in 55.53, an excellent achievement on this hilly course.
On September 12th Tim Grimwood took part in the Lake District Mountain Trial, a classic mountain navigation race. His verdict on the race was 'tough day at the mountain trial, perfect visibility but a very sweaty day. Mostly happy with my route choice and time but struggled to get going at times.' He completed 23.5 miles with 7,943ft of ascent, finishing 35th in an official time of 6.29.39.
On the same day Andrew Fletcher took part in the Tholthorpe 10K. He finished in 44.34 as 3rd V60, adding to his list of good results for the age-graded club championship. This was also the day of the long awaited Great North Run. First home for the club was Andrew Fahey in 1.32.32, followed closely by Iain Kerr, in a PB of 1.32.55. Roger Brisley, recently returned from serious injury, ran remarkably well to finish in 1.53.52. John Cantrell kept his eyes on the pacer and ran with determination to finish in 1.59.10. It is likely that Lucy Tulloch would also have finished under 2 hours, but she generously stopped to help a collapsed runner and came in at 2.02.01. Carrie Morrell was next in 2.21.05, followed by Sheila Cantrell in 2.25.04. Stuart Clarkson completed his 20th GNR, this time supporting a friend on her first one. They finished in 2.47.23. Just behind them, Claire Hewitt finished her first (and she reckons last ever) GNR in 2.50.02, supported by her husband Simon in 2.50.04.