With more and more Swaledale runners getting interested in fell running, the club was delighted to be able to field two teams this year at the British Fell and Hill Relay Championships on October 16th. The men's team, consisting of Mike Keavney, Ian Oldham, Neil Bowmer, Josh Westwood, Tim Grimwood and Sam Johnson, made the top half of a very strong field, finishing 108th out of 220 teams overall.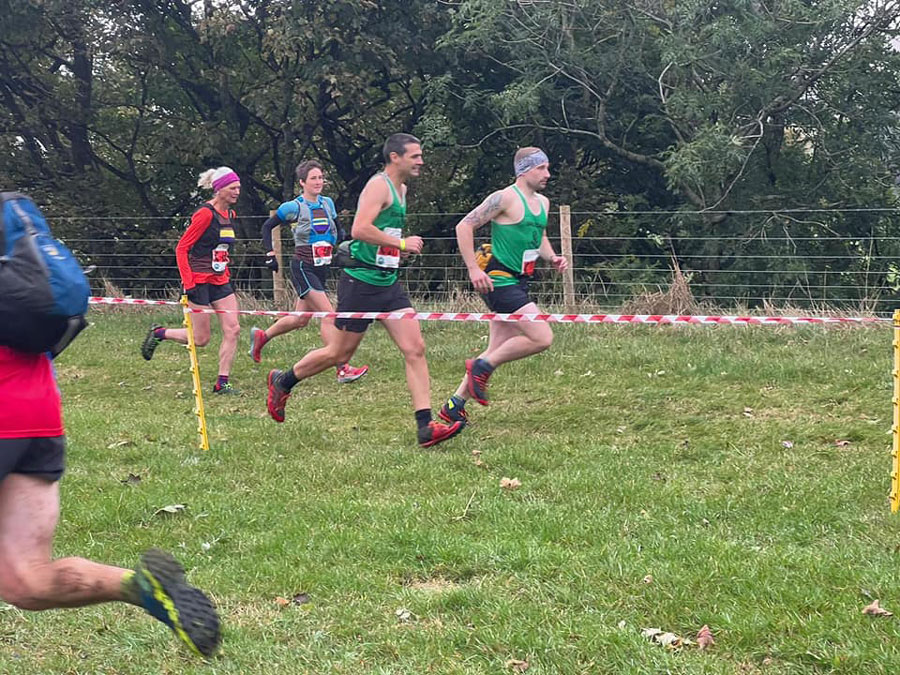 The mixed team, made up of Simon Hewitt, Ros Blackmore, Caroline Graham, Jim Coldwell, Emily Abbey and Tony Taylor, were 195th overall, 23rd out of 30 mixed teams.
Marathon season continues and the York Marathon on October 17th was an important race for two Swaledale Runners in particular. Both Jess Young and Grace Gilpin had trained hard, set themselves tough targets – and smashed them! Jess Young produced the run of her life to finish in 3.07.33, 15th out of more than 1000 women and 8th FV35. Grace Gilpin had set herself the target of breaking the 4-hour barrier, having come close at this event in 2018. She paced herself well and really pushed
herself up the final incline to finish in 3.59.03 as 5th FV60. Martin Randall, just 2 weeks after completing the hilly Kielder Marathon, was running to support a friend in her first ever marathon. They finished the course together in a creditable 4.22.50, a great time for a first marathon.
The Langdale Marathon on October 23rd offered a smaller field and a much hillier course to three veteran Swaledale Runners. Liz Sowter was first Swaledaler home, delighted to finish in 4.31.13, 1st FV60 and 8th female out of 32. Julia Spittle, modestly targeting a sub 6-hour finish, also won her age category, finishing well ahead of schedule in 5.21.48 as 1st FV65. Roger Brisley, after completing the Great North Run and the London Marathon, finished his trio of big events for the season just behind Julia in 5.23.13, as 3rd V65.
On October 24th nine Swaledale Runners headed off to the Lockton Limping , the second event in the Dave Parry Lets Run Winter Fell Race Series. Tim Grimwood consolidated his position in the series as 4th overall and 1st V40. There was success for the ladies as well, with Ros Blackmore 1st FV50 and Claire Stewart 2nd FV50. Full Swaledale results from 131 starters, (130 finishers). Tim Grimwood 53.12, 4th, 1st MV40. Neil Bowmer 63.43, 41st, 7th MV50. Ian Oldham 64.03, 43rd, 10th MV45. Mike Keavney 70.12, 63rd, 3rd MV55. Ros Blackmore 72.28, 72nd, 1st FV50. Caroline Graham 78.33, 93rd, 9th FV40. Claire Stewart 81.40, 100th, 2nd FV55. Martha McBarron 93.58, 120th, 3rd FV60. Both Male and Female Teams finished 6th!