Over recent years more and more club members have been taking on ultra-distance challenges. Ros Blackmore, who ran coast to coast over 5 days in 2020, has just completed her longest continuous run over an
incredible 100 miles.
"Massive thanks to my wonderful support team for helping me to achieve my long held goal of completing a 100 mile run. I travelled the Lady Anne's Way from Skipton to Penrith in one go (33.5hrs) snatching an hours sleep on the way. It was a fantastic journey and wouldn't have been possible or half as enjoyable without them. So, many thanks to Neil (road support, cook, tea maker and carer) Mandy Goth (Skipton to Grassington), Simon Hewitt (Capplestone Gate to Cray), Stuart Clarkson (Cray to Hawes and unexpectedly again from Appleby to Penrith), Matt Neale (around Hawes), Jess Ann (night section from Hawes to Kirkby Stephen) and Ben Mounsey and Kirsty Hall for coming out to cheer me on in Grassington. Lucky to have had superb weather throughout and not one blister!"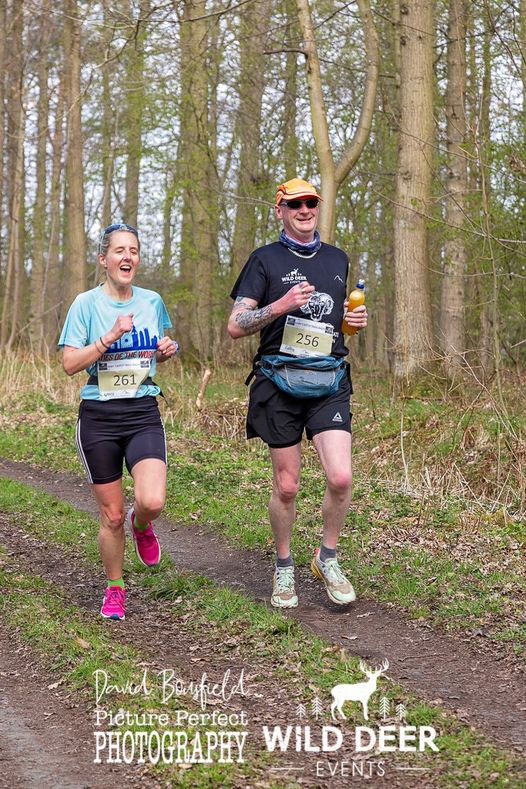 On Sunday April 18th Martin Randall took part in one of the Raby Castle trail runs, organised by Wild Deer Events. There was the option of running 5 miles or 10 miles, with staggered starts to keep runners safely apart. Martin chose the 10 mile option, which he completed not so much as a race as to enjoy the route and support a fellow runner. Even at a pace that was quite relaxed for him, he completed the course in 1.24.02. Thank you to Wild Deer Events for allowing us to use this photo - and for putting on events in such beautiful surroundings.
The trails we run on every week are great preparation for events like this, as we have a wealth of routes to choose from for our club nights and even more when we get together informally at weekends. Please get in touch via our Facebook page if you want to know more about what we do.
It was with great excitement that we finally got back racing on April 11th. This was the second running of the Swainby Sweep, which was one of the first races to fall victim to COVID
restrictions last year and one of the first post-lockdown events of 2021. Race organisers Carol and Dave Murray left no stone unturned in making sure that that we all complied with governments guidelines while still having a fabulous racing experience.
Four Swaledale runners tackled the long course, which was reduced from the planned 16-mile route to about 13.2 miles, because of heavy snow on the upper reaches of the course. Runners were set off in small groups at one-minute intervals, so no one knew exactly how they had done until the results were published later that day. Jess Young, on form as ever, was 3rd lady overall, in a time of 1.51.33. Helen Nicholson was 15th lady overall and 1st FV 50 in 2.19.24. Not far behind were Roger Brisley in 2.24.01 and Julia Spittle, 2nd FV60, in 2.33.39. Liz Sowter completed the 6.6-mile short course in 1.10.15, making her first FV60.
Races like this couldn't happen without the volunteers and club members Simon Hewitt, Stuart Clarkson, Ros Blackmore and Neil Bowmer were all in action round the course. Thank you to them, to Carol and Dave Murray and to everyone who made this event such a success.
Club members have been taking advantage of the gradual easing of lockdown to run from places further afield than their own front door. In the Dales and North York Moors, in
Teesdale and the Lake District, runners have been exploring new paths and getting reacquainted with old favourites.
For some these runs are preparation for big events later in the year, including the Lakeland 50, the Lady Anne's Way 100 and a Bob Graham Round. This requires practising navigational skills, building up endurance and learning to move well on rough ground. What could be a better excuse for a grand day out!
We had an amazing turn out for the first session of our latest Swaledale Shufflers C25km group. Fantastic job team - it was lovely to meet you all and we're really looking forward to next week!
Get in touch with us if you are keen to get started with running or return to running after a break. We welcome all runners and have a session that will be right for you.
Club runs have now started up again on Tuesdays and Thursdays – hooray! We are of course following government and England Athletics guidelines to keep ourselves safe, so the
clubhouse remains closed. For now we are concentrating on social runs in groups to suit people's pace.
If you are interested in finding out more about the club, you can contact us via our Facebook page, or our Run Together page.
During the latest lockdown members of Swaledale Runners have kept on running in all weathers. Many have taken part in virtual challenges, with a 'complete not compete' theme to keep everyone motivated. Some have been concentrating on the 'Big Mountain Challenge', with several runners reaching the top of Everest and beyond. We have tackled more unusual challenges and discovered that running backwards is a lot harder than it looks! There has been an alphabet challenge and a treasure hunt as well as plogging (jogging and litter picking) and a photo competition. Information about our virtual challenges, as well as the latest results, can be found under competitions above. As we gradually return to racing we will still be keeping some virtual competitions going: watch this space!
Running from home has been tough, but this did not hold back Jess Young who completed an incredible 100K run from her home in under 10 hours, raising over £1200 for the Captain Tom Foundation. You can read a report of Jess's amazing achievement here.