On July 8th our usual running sessions were replaced by something special: a fell run from Low Whita Farm in Swaledale. For some this was a chance for a bit of friendly rivalry as they raced the course;
for others it was a chance to run with friends, or maybe try out a fell run for the first time. The weather was kind to us and the turn-out from club members was fantastic.
All participants were rewarded with a Harrier squishy cup as a memento.
Many thanks to Stuart Clarkson and his family for letting us run in this beautiful spot and for the refreshments and hospitality.
On June 27th Tony Taylor took part in the Hardwolds 40, which is actually a 44 mile route from Beverley to Malton, following the Wolds Way. Heat and humidity made this particularly tough, but Tony ran strongly to
finish in 10.44.06, coming in 74th out of 167 finishers.
On the same day Stuart Clarkson tackled the Thirlmere Trot. This is a 24-mile high circumnavigation of Thirlmere Reservoir, with almost 6500 feet of ascent. The organisers describe it as 'hugely varied, with steep rocky climbs, moorland, bogs, lakeside single track and some of the best mountain trails in the Lakes'; Stuart, and no doubt many others, describe it as 'brutal'! Despite this Stu had a great day out, finishing in 7.56.17. Thanks to Route North photos for permission to use their photos.
On July 3rd Helen Nicholson headed south to take part in the Suffolk Trail Running Festival. She chose the solo 6 hour event, which involved running as many 5 mile laps as possible through the forest. She put in a great performance, completing 6 laps and finishing as 7th female out of 31. Meanwhile Simon Hewitt was running laps around Bramham Park, at the Enduro 24. His initial target was to complete a minimum of 50 miles and he did this in style, maintaining a good pace. During the night the area was hit by storms and runners had to be pulled off the course. After sitting in his car for 3 hours and snatching some sleep Simon hobbled out again at 6am to run another 25 miles! 75 miles in total: fantastic effort Simon!

Finally this report is just in from Ros Blackmore: 'We had a blast at the Saunders Lakeland Mountain Marathon this weekend. Clouds and showers made
the nav more challenging on Day 1 from Buttermere, but there was even a tiny bit of sunshine on Day 2. The overnight camp was at Seathwaite. We were 3rd in the Female Pairs on the Fairfield Score Class overnight, but we pushed hard on Day 2 and managed the highest score of all the Female Pairs on that day. Our final results were 2nd Females/18 and 3rd Vets (male and females)/39. Our overall placing in the race was 16/81. An exhausting but satisfying weekend's work. The Saunders would make a great introduction to Mountain Marathon events as there are both linear and score classes, some at beginner level.'
We are now halfway through the year and the Swaledale Runners go from strength to strength. In these crazy times the club continues to flourish, with lots of new members, amazing personal
achievements and goals accomplished. The continued great results in organised races from our "little" club show that we are always punching above our weight.
On the 19th June Neil Bowmer became another Swaledale Runner to join the illustrious group of Bob Graham Round members. The Bob Graham Round is a fell running challenge in the Lake District, covering 66 miles and traversing 42 fells (8,600 meters of ascent) within 24 hours. Neil completed this world-famous challenge in 23 hours 35 mins. Well done to him, Ros and the support team for this amazing achievement. It was a true Swaledale Runners team effort, with further expertise and help from our friends from Todmorden Harriers.
Massive congratulations go to the Swaledale Shufflers, who on 19th June did their 5k at Kirkby Fleetham. The Shufflers is a great addition to the Swaledale Runners club, with brilliant organisation and coaching from Claire, Simon and Jess. It's a nice and no pressure introduction to running. Some great results, well done to all: Amy Simeon (31.12), Heather Cunnachie (33.25), Angela Muston (36.52), Nicky Hebb (36.52), Linda McDermot (37.55), Zoe Gumm (38.12), Maria Hamilton (39.40), Karen Aston (39.58), Jean Raine (41.44), Belinda Stares (42.14), Karen Galloway (42.14), Angelika Skvan (43.31). Two more experienced runners, Grace Gilpin and Andrew Fletcher, used this course to test their speed. Grace completed the 5K in 23.34, placing her second equal overall in the age-graded results. Andrew chose to run 10K, which placed him 6th overall in his time of 44.18.
Well done to new club member Suzanna Allen who on the 20th June ran the Glorious Gargrave 10k, and to long-standing member Niall Cheyne, who ran in the Sunderland half marathon on 20th June, supporting a fellow runner to finish in 2.42.
Fell running stalwarts Tim Grimwood and Jim Coldwell continued their fell running season at the Hawkswick Dash on 20th June. Tim was 18th in 14.04 and Jim was 89th in 21.10.
Swaledalers Dave and Carol Murray organised their first 10k for the MaD Races events at Kiplin Hall on 9th June, with plenty of green-vested Swaledalers and Shufflers taking part. The race was won by Rob Scott in a very swift 34.16. First home for the club was new member Glen Davies (44.51), followed by Simon Hewitt (47.14), Jenny Jakeman (49.20), Sue Thurlbeck (49.43 - 2nd V50), Louise Black (50.01), Ilsa Collinge (52.13), Chris Muston (53.07 - PB) Zoe Foulerton (59.34), Sam Metcalfe (1.02.54) and Mel May - 1.04.05.
Well done to Rachael Ridley (6.27.51) and Avril Clare Thresh (6.28.02) who completed their first Ultra Marathon 50k run in Leeds on 12th June. That was certainly a spectacular way to celebrate a birthday! On
the same day three Swaledale Runners competed in the White Horse Half Marathon on the North Yorkshire Moors. Helen Nicholson was first back for the club in 2.57.15 followed by Rebecca Pickles in 3.11.41, then Roger Brisley in 3.13.42
On 13th June, Martin Randall, Stuart Clarkson and John Cantrell took part in the Settle Saunter, a 23 mile route around the hills of Settle. Well done to Martin who was 13th in a time of 4.04.14. This was John's longest ever run, but he rose to the challenge and paced himself well and finished 49th in a time of 5.10.58, an excellent achievement. Andrew Fletcher competed in the 10k option and had a brilliant 5th place in 1.03.12.
New members of all abilities are welcome, and beginners' groups start at regular intervals. Come and join us for a run in our beautiful location!
There was some great running from club members last weekend and the events they chose could not have been more different.

Tim Grimwood and Jim Coldwell took part in the BOFRA championship race at Kettlewell, a race which is just 1.4 miles in length, but with 550ft feet of ascent. According to race organisers 'a fast start is required to reach the gully which is usually a bottleneck before reaching the ridge, then run along the skyline to the cairn before a fast descent and a short section of scree'. Tim finished in 13.34, 13th out of the 80 men competing, and Jim was 64th in 20.25.

Jess Young took part in the Cowshed Backyard Ultra at Wheelbirks Farm Stocksfield This format, which is becoming increasingly popular, involves running 4.2-mile laps, starting a new lap every hour, precisely on the hour. Competitors keep going until they are timed out or choose to retire, until it gets to the 'last man standing'.
With plenty of ultra-experience behind her, Jess was able to finish each round comfortably with 10-15 mins to spare, by walking the ups and jogging the flats and downs. At 50 miles she felt herself starting to flag, but urged on by her husband Gary she persevered, knowing that there were only three other ladies left. Once it started to get dark there was just one other lady remining and she got timed out on the first full dark lap. Jess also slowed in the dark but managed to make it round another full dark lap at midnight with 4 minutes to spare, to finish as 'last lady standing'.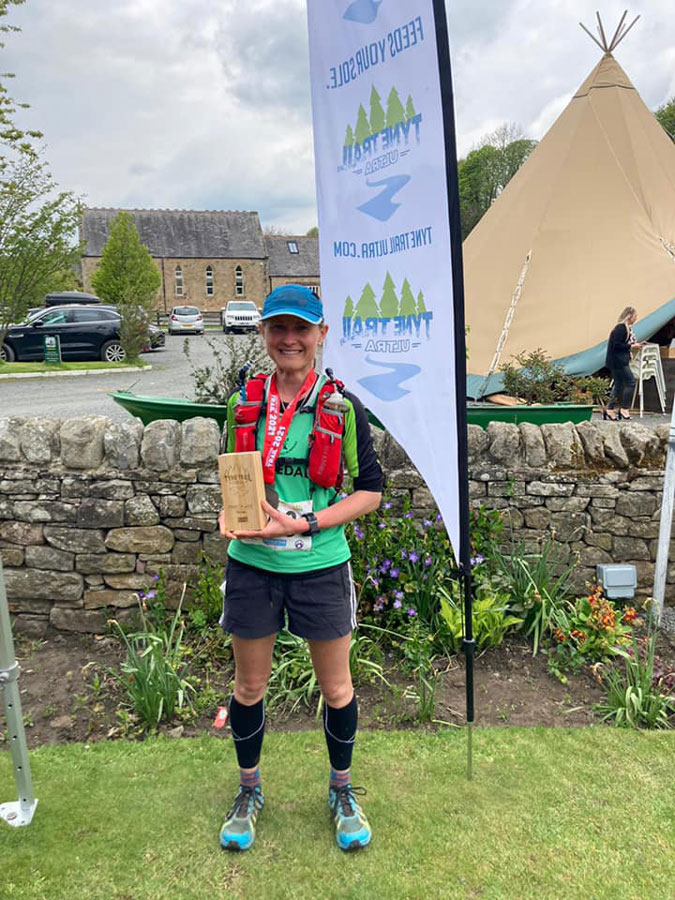 Congratulations to Jess Young who was 1st lady and 3rd overall in the Tyne Trail Ultra yesterday. She completed the 70K run in 6.52.57, just 32 minutes behind the fastest man.
'I really enjoyed the Cold Brew Events Tyne Trail Ultra today. The event ran like clockwork, yet had a very chilled and extremely friendly atmosphere.The route was beautiful, mainly on tracks and trails or through the fields. There were some quite long road sections which suited me. It was easy to navigate, easy to access aid stations and tracked. It was perfect for building up confidence for longer distances, as the ascent wasn't particularly big (2,250ft). I'll definitely have a look at other Cold Brew events'.
On April 29th Tim Grimwood was excited to be racing on the fells again at the Cockfield Chase, organised by Durham Fell Runners. This involved a warm-up lap of 3.5K to show runners the route, followed by 3.5K for
the race itself. Although this was shorter than the races Tim usually runs, he made up ground on the final climb to finish 6th overall, just 38 seconds behind the winner.
Over the bank holiday weekend several club members headed over to the Lake District. Ros Blackmore did a 15K run from Buttermere, a recce of leg 3 of the Frog Graham ,a long-distance swimming and running route that she is planning to do later in the year. Meanwhile Jess Young was accompanying Neil Bowmer on a recce of one leg of his planned Bob Graham route. Ian Oldham and Caroline Graham were in support mode, accompanying ultra-distance runner Sabrina Verjee on part of her epic Run around the Wainwrights.
Other club members enjoyed their own runs around Wensleydale, Hamsterley Forest, Northumberland and of course Swaledale. Chris Muston, setting off with the intention of practising pacing and technique, was excited to find that he had accidentally run his first half marathon!
Meanwhile, club nights are going from strength to strength and we have been delighted to wlecome several new members over the last few weeks. If you think that Swaledale Runners might be the club for you, please do get in touch and come along for a trial session.
Over recent years more and more club members have been taking on ultra-distance challenges. Ros Blackmore, who ran coast to coast over 5 days in 2020, has just completed her longest continuous run over an
incredible 100 miles.
"Massive thanks to my wonderful support team for helping me to achieve my long held goal of completing a 100 mile run. I travelled the Lady Anne's Way from Skipton to Penrith in one go (33.5hrs) snatching an hours sleep on the way. It was a fantastic journey and wouldn't have been possible or half as enjoyable without them. So, many thanks to Neil (road support, cook, tea maker and carer) Mandy Goth (Skipton to Grassington), Simon Hewitt (Capplestone Gate to Cray), Stuart Clarkson (Cray to Hawes and unexpectedly again from Appleby to Penrith), Matt Neale (around Hawes), Jess Ann (night section from Hawes to Kirkby Stephen) and Ben Mounsey and Kirsty Hall for coming out to cheer me on in Grassington. Lucky to have had superb weather throughout and not one blister!"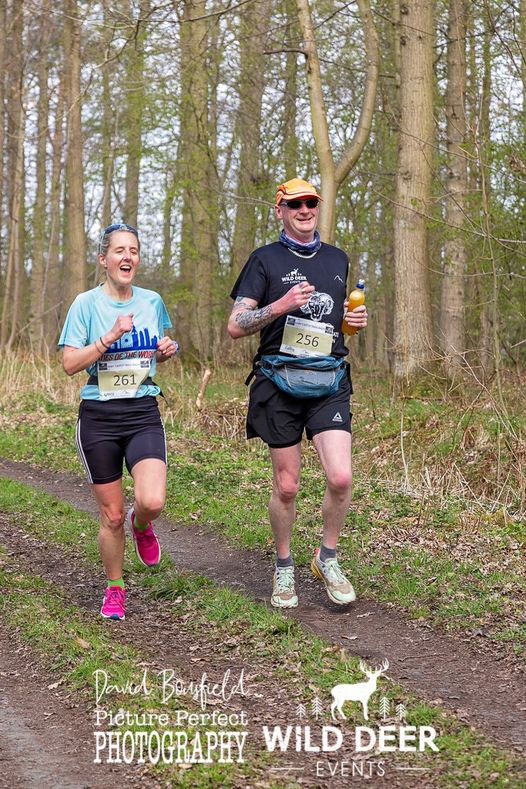 On Sunday April 18th Martin Randall took part in one of the Raby Castle trail runs, organised by Wild Deer Events. There was the option of running 5 miles or 10 miles, with staggered starts to keep runners safely apart. Martin chose the 10 mile option, which he completed not so much as a race as to enjoy the route and support a fellow runner. Even at a pace that was quite relaxed for him, he completed the course in 1.24.02. Thank you to Wild Deer Events for allowing us to use this photo - and for putting on events in such beautiful surroundings.
The trails we run on every week are great preparation for events like this, as we have a wealth of routes to choose from for our club nights and even more when we get together informally at weekends. Please get in touch via our Facebook page if you want to know more about what we do.