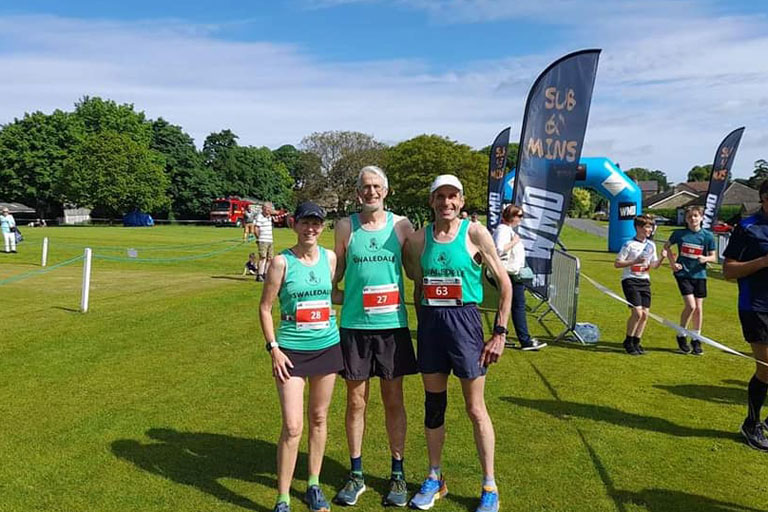 Castle and Islands 24-hour challenge
Louise Black took on this amazing challenge, which involves completing 4 runs totalling 30 miles, visiting 5 castles and sailing between them! Louise and her team completed 2 runs and 12 hours of sailing, but sadly had to pull out with engine trouble. She loved the challenge and vows to be back next year!
Race for Life
Jane Bond took part in the Race for Life in Darlington - an important event in a great cause. Well done Jane!
Watlass Wander and Durham Dales Challenge
On 18th June in the gorgeous sunshine Neil Bowmer and Andrew Fletcher took on the Watlass Wander, with Neil finishing in 42.28 and Andrew 45.27. Ros Blackmore ran the 5K, her first race since January, and was rewarded with position of 1st female. On the same day Martin Randall and Vicky Dykes completed the Durham Dales Challenge, a 14-mile run with over 1300ft of ascent.
Cleveland Cols Challenge
Running uphill holds no fear for Swaledale runners and there were several club members taking part in the Black Hambleton Hill Race, the second run in a series of seven, organised by Let's Run in Stokesley.
Kiplin Hall 0K
There was an outstanding turnout at the Kiplin Hall and Gardens evening 10K trail race. Well done to everyone who ran or marshalled at this event. There were a host of trophy winners for Swaledale: Jess Young 1st lady overall, Rebecca 2nd female senior, Aimee 3rd female senior, Abbie Hull 3rd FV40 (in her first claim vest!), Neil Bowmer 1st MV50.
Hardmoors White Horse
Nicki Buckett and Stephen Ramsay ran the Hardmoors White Horse Marathon, while Roger Brisley and Julia Spittle tackled the half. Of course, in true Hardmoors style, the marathon was actually 29 miles and the half was 16.5! Great achievement everyone!
Bamburgh 10K
Isla Collinge produced another PB, clipping under 50 minutes to finish in 49.55.
Swaledale marathon
The Swaledale Marathon is always a big day in the club's calendar, with many of our weekend runs geared towards recces and training runs for this scenic 23-mile event. Some were aiming for fast times, others just to get round the callenging course in very windy conditions. Steve Devlin was first Swaledaler home in 3:30:56 and Jess Young was first lady overall in 3:45:57. Swaledale Ladies also secured the team prize: well done to Jess Young, Tracey Hunter, Sue Thurlbeck and Zoe Mason.
Blaydon 10K
On June 9th Louise Black flew the Swaledale flag at the Blaydon race, running 10km in 47:26.
Parkruns June 4th
Swaledale Runners were out and about this Saturday: it was Keswick parkrun for Kev and Jane Bond, Hackworth parkrun for Chris & Angela Muston, Carrissa-marie Jackson, Zabi Dashwood and the buggy, Penallta parkrun for Nicki Buckett, Northallerton parkrun for Jodie and Darlington parkrun for Annelie Whitfield. Annelie's time of 22.21 was a new FV60 club record and the second best overall age-graded result at Darlington that morning.
Weekend 10Ks

Runners were spoiled for choice, with Northallerton 10K and Raby Castle 10K both on May 29th.
Northallerton results: Rachael Ridley 45.22 (1st FV35), Andrew Fletcher 46.03 (2nd MV60), James Cunnachie 48.47, Niall Cheyne 50.20, Julia Spittle 59.51.
Raby Castle results: Steve Devlin 40.50, Martin Randall 44.10, Emily Abbey 46.28, Vicky Dykes 48.53, James Back 50.03
Parkruns May 28th

Glenn Davies celebrated moving up into a new age group by running 21.14 at Gunnersbury Park. Annelie Whitfield was 2nd female at Darlington in 22.58. Zabi Dashwood and Jane Bond headed to Hardwick Park, Sedgefield,: Zabi (+ buggy) 29.10, Jane 35.25.
Kettlewell Trail half marathon
Congratulations to Tracey Gill and Nicki Buckett for completing the Kettlewell Trail half marathon, a very tough route with 900 metres of ascent. They emerged still smiling and ready to enjoy the pork pie and beer at the end.
Old County Tops
Tim Grimwood and Richard Veitch (Esk Valley) completed the Old County Tops pairs fell race in the Lakes: a mere 25 miles and 10,000ft of ascent with plenty of navigational challenges thrown in.
Windermere Marathon
Martin Randall and Vicky Russell tackled the Windemere Marathon "the most scenic marathon in the UK," with a marathon PB of 4:18:56 for Vicky.
Stokesley Triathlon
Louise Black smashed her first triathlon at Stokesley with a 465yd swim, 11 mile cycle and 5km run, all done in 1 hr 20mins.
The Incline
Some keen hill runners took on 'The Incline', organised by Let's Run: 5km run to the point of interest, sprint up the incline and run back. Congratulations to Jess Young and and Rachael Ridley who were 1st and 3rd Lady
The Lap
Steve Devlin ran 'The Lap' – 47 miles around Windermere - in memory of his wife Honia, raising money for Macmillan Cancer Support.
Joss Nayor Challenge
Neil Bowmer completed the Joss Naylor Challenge. The route covers 48 miles from Pooley Bridge to Greendale Bridge, taking in 30 mountains with 5182 metres of ascent. He smashed the 15-hour time limit for M55, finishing in 13.49.. Along with 3 friends from Todmorden Harriers, 7 Swaledalers supported Neil throughout the day.
Beverley 10K
Emily Abbey completed the Beverley 10K in an excellent time of 44.54 while on home turf visiting friends and family. She had not competed in such a large event for a while and found the route, atmosphere, and organisation superb.
Sunderland 10K and half marathon
There were some great times at the Sunderland 10K: Andrew Fletcher 44.12 (4th V60), Isla Collinge 49.17, Pete Devlin 49.25, Zabi Dashwood 50. 46 (a massive PB). Meanwhile Martha McBarron took on the half marathon, smashing the FV65 club record to finish in 1.52.27 (2nd FV60).