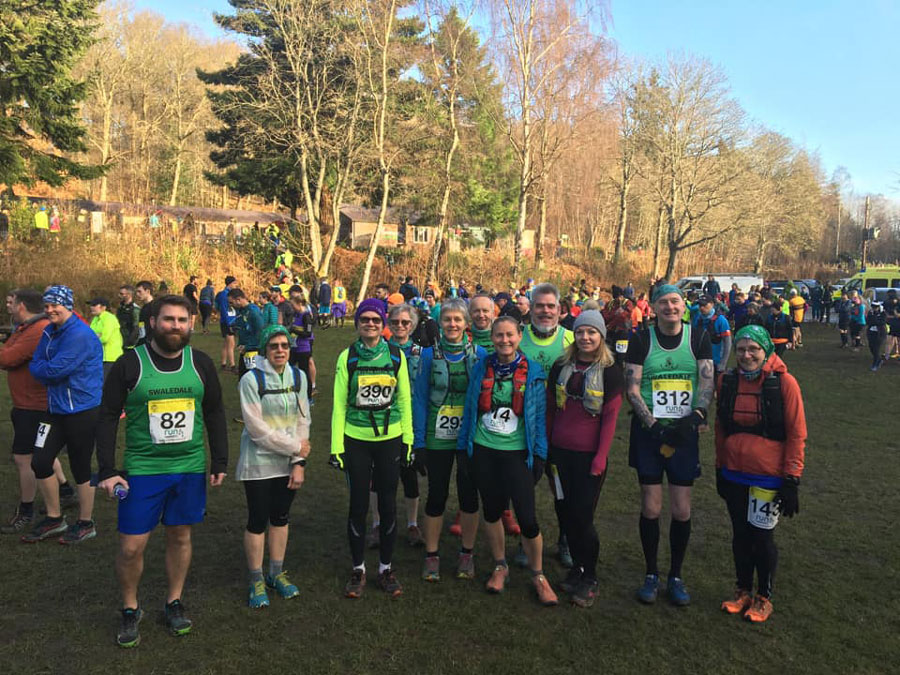 There was a good turnout of Swaledale runners for the Greener Miles runs at Hamsterley Forest on January 2nd. The 10K and 14-mile races are both testing, hilly courses, with their fair share of mud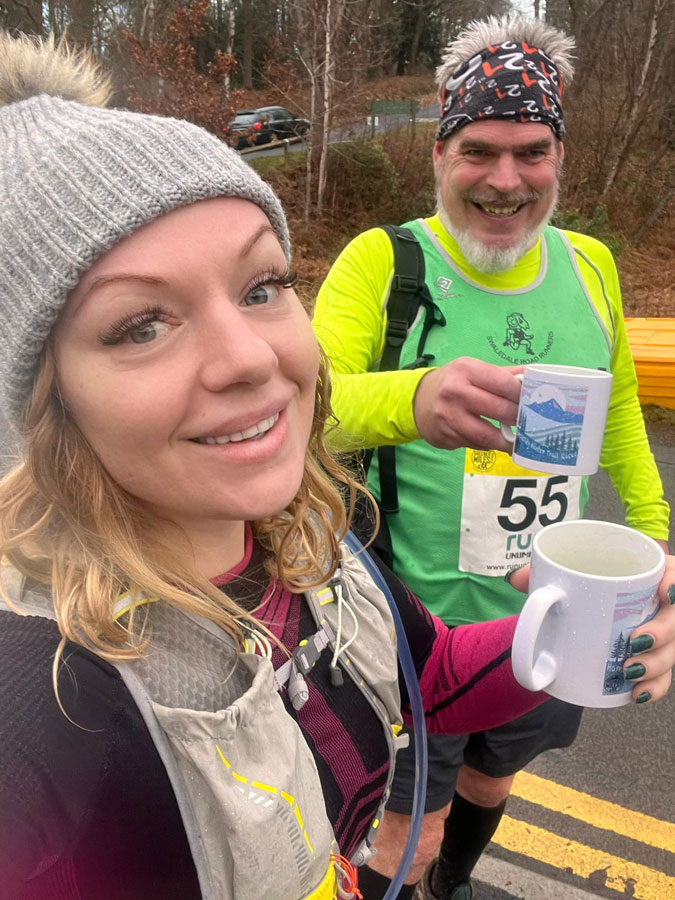 . Three Swaledale runners made it into the prizes: in the 14-mile race Jess Young worked her way from 3rd into 1st place in the later stages of the run. Grace Gilpin showed her trail running strength to finish as 1st FV60. Meanwhile in the 10K race Emily Abbey finished in a fantastic 9th place overall, as 3rd lady. Full Swaledale results: 14 miles -Jess Young 1.54.44, 19th overall, 1st lady; Martin Randall 1.57.43, 24th overall; Grace Gilpin 2.19.14, 1st FV60; Liz Sowter 2.24.24; Martha McBarron 2.25.59; John Cantrell 2.30.39; Helen Nicholson 2.30.41; Robert Dashwood 2.40.58; Niall Cheyne 3.10.41; Suzanna Allen 3.10.50. 10K -Emily Abbey 52.49, 9th overall, 3rd lady.
The Commondale Clart on January 9th lived up to its name, but the 'green machine' was out in force once again. Well done to Claire Stewart and Oonagh Bathgate for winning their age categories. Swaledale results: Tim Grimwood 7th 40.43, Ian Oldham 47.15, Oonagh Bathgate 54.05 !st FV60, Becky Barnett 54.33, Caroline Graham 56.55, Claire Stewart 60.30 1st FV55.
There were some great results for Swaledale at the Eskdale Eureka on December 5th, a 14K fell run with 495 metres of ascent. Swaledale results: Tim Grimwood 71.03, 4/97, 1st V40; Ian Oldham 84.02, 29/97, 3rd M45: Anthony Taylor 92.50, 50/97, 7th M40: Ros Blackmore 97.17, 59/97, 2nd FV50: Caroline Graham 104.43, 71/97, 6th FV40: Becky Barnett 107.59, 72/97, 5th FO (after taking a big fall).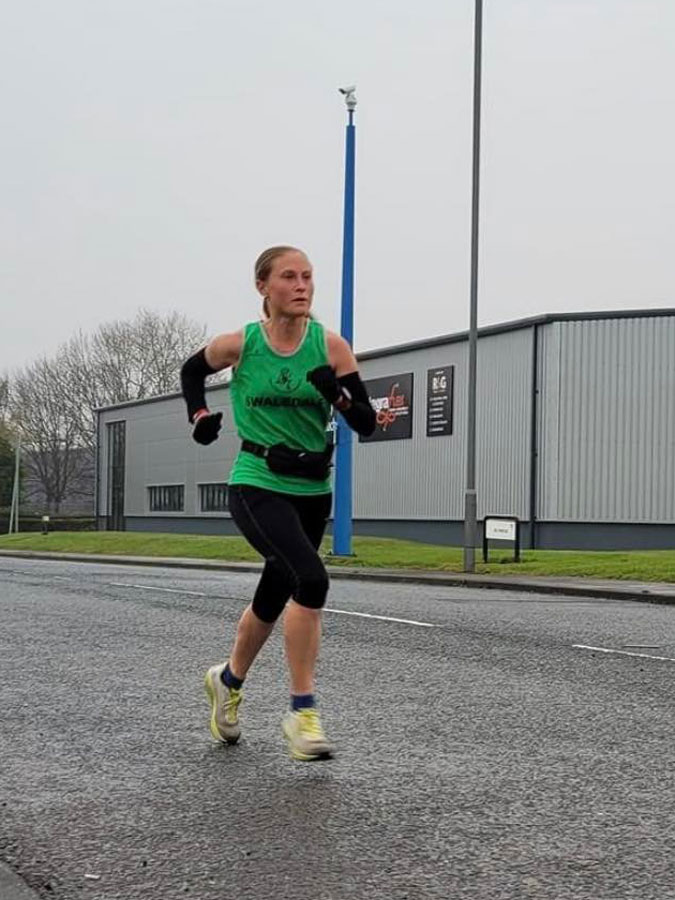 On December 19th Swaledale Runners donned Christmas outfits for the McTaggart Trot, a fantastic charity event which raises funds for St Teresa's Hospice in Darlington. Runners set off in teams of three with a staggered start, with the first runner dropping out at 3.5 miles, the second at 7 miles and the third completing the 11-mile course. What better way to get into the Christmas spirit!
Meanwhile Jess Young took part in the NEP 10-mile race, as part of her preparation for an important half marathon in January. She smashed her own PB and beat the club age-group record by 8 seconds to finish in 1.04.33.
On December 28th six Swaledale runners took part in the Jolly Holly Jog, a popular multi-terrain 10K. Congratulations to Martha McBarron, who finished an impressive running year by winning her age-category. Swaledale results: Martin Randall 48.17, Zoe Mason 48.36, Martha McBarron 55.31, Julia Spittle 1.06.50, Roger Brisley 1.06.57, Sarah Norman 1.28.04.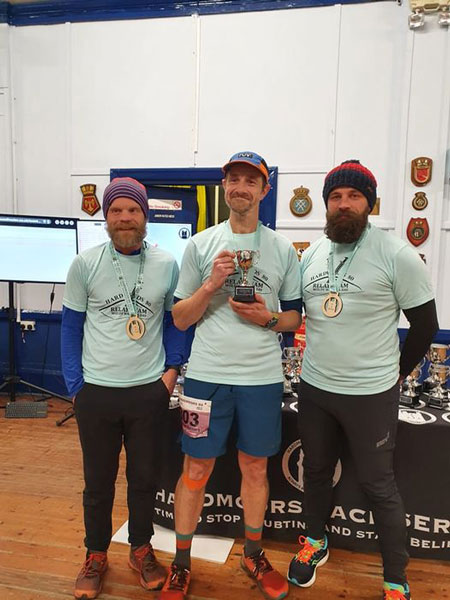 November 14th was another busy day of racing. There were a couple of great performances at the Hamsterley 10M, a hilly trail race. Martin Randall was 7th male overall in 1.15.11 and Grace Gilpin was 1st FV60 in 1.26.59. Meanwhile Mark Smith was at Slaley Hall for a trail half marathon, where he ran an excellent time of 1.59.54 on a hilly course. The keen fell runners were at the Saltergate Gallows, where the ladies team came 4th. Jess Young 113.02, 46/120, 6/30 F., Ian Oldham 114.21, 48/120, 7/16 M45, Ros Blackmore 129.41, 77/120, 14/30 F, 1/3 FV50., Caroline Graham 137.52, 89/120, 19/30 F, 4/6 FV40.
On November 20th a team of 4 took on the Hardwolds 80 as a relay. They finished 2nd in an amazing time of 13.14.54, which would have been a winning time by some margin any other year. Congratulations to Tim Grimwood, Ian Oldham, Tony Taylor and Simon Hewitt, not forgetting Caroline Graham as logistics manager and motivational guru!
The next day a couple of club age-group records were broken at the Tadcaster 10. Annelie Whitfield smashed another PB to finish in 1.17.47 and was 3rd FV55. Liz Sowter was also happy with her time of 1.22.59, her fastest 10 miler since 2013.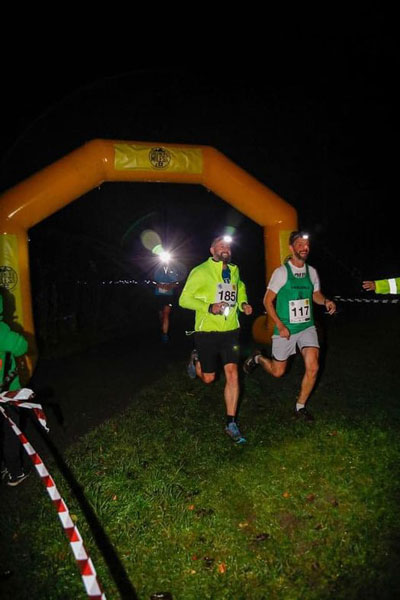 The evening of November 6th was the date of an eagerly awaited club outing to the Hamsterley Moon Runner 10K, organised by Greener Miles. Armed with headtorches, 27 intrepid club members tackled this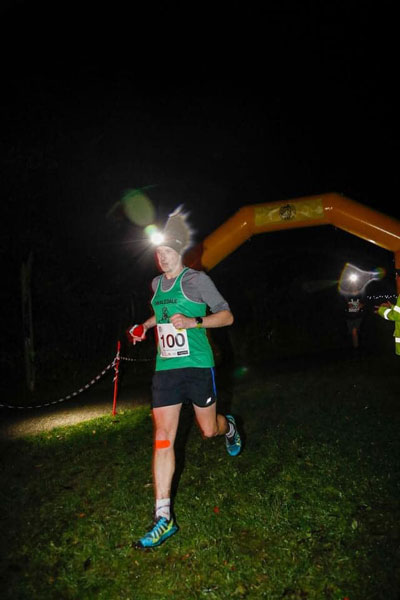 course through the woods, with some great results. Josh Westwood was first home for the club in 11th place overall. There were three victories in the age categories, with Zoe Mason 1st F40, Ros Blackmore 1st F50 and Martha McBarron 1st F60. Full Swaledale results: Josh Westwood - 11th 45.38, Zoe Mason - 19th 51.05, Emily Abbey - 20th 51.08, Neil Bowmer- 23rd 51.35,Glenn Davies - 27th 52.47,Simon Hewitt - 32nd 53.30,Samuel Thomas Johnson - 35th 53.50,Becky Barnett - 42nd 56.18, Heather Hodgson - 45th 57.07,Mark Smith - 47th 58.25,Daniel Kilvington-Mason - 48th 58.25,Ros Blackmore - 50th 58.48,Chris Muston - 71st 1.02.27,Martha McBarron - 77th 1.03.05,Louise Black -78th 1.03.10,Helen Nicholson - 81st 1.03.27,Stuart Clarkson - 101st 1.08.37,Sheila Cantrell - 104th 1.09.07,Julia Spittle - 105th 1.09.24,Samantha Metcalfe - 106th 1.09.27,Suzanna Allen - 116th 1.12.13,Carrie Morrell - 125th 1.14.09,Niall Cheyne - 127th 1.15.11,Roger Gregson - 138th 1.17.21,Angela Muston - 165th 1.41.12,Claire Hewitt - 166th 1.41.17,Catriona Riley - 167th 1.41.20.
After her victory at Hamsterley Forest, Ros Blackmore was back in action the very next morning to tackle a marathon. Running the Town Moor Marathon in Newcastle in high winds was tough, but Ros has reserves of strength and she completed the course in 4.12.11.
Meanwhile, at the Middlesbrough 10K, Annelie Whitfield proved that she is going from strength to strength. She smashed her PB and finished in a fantastic time of 45.56, 20th female overall and 4th FV50.
With more and more Swaledale runners getting interested in fell running, the club was delighted to be able to field two teams this year at the British Fell and Hill Relay Championships on October 16th. The men's team, consisting of Mike Keavney, Ian Oldham, Neil Bowmer, Josh Westwood, Tim Grimwood and Sam Johnson, made the top half of a very strong field, finishing 108th out of 220 teams overall.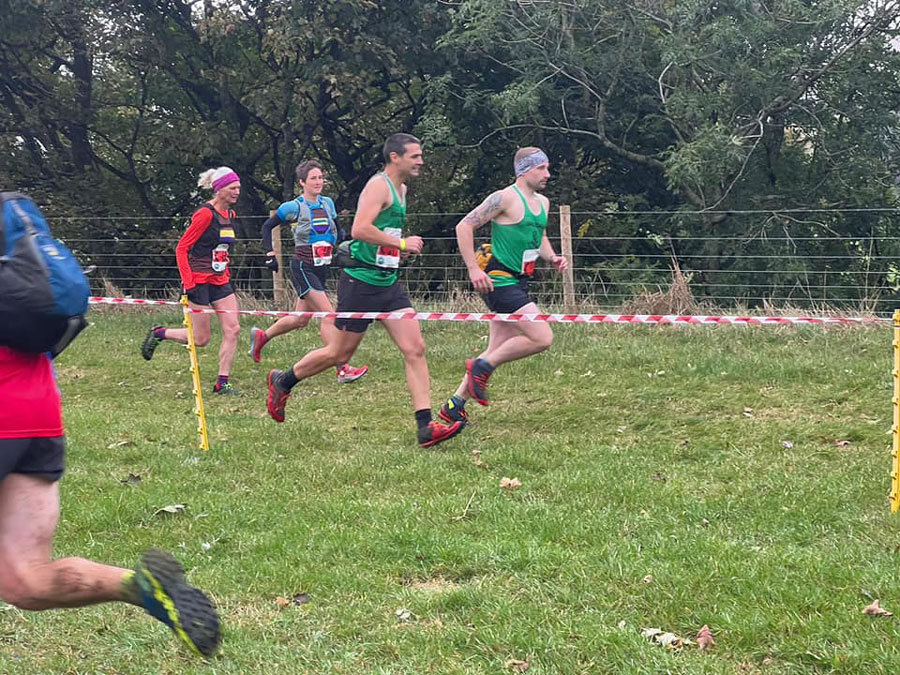 The mixed team, made up of Simon Hewitt, Ros Blackmore, Caroline Graham, Jim Coldwell, Emily Abbey and Tony Taylor, were 195th overall, 23rd out of 30 mixed teams.
Marathon season continues and the York Marathon on October 17th was an important race for two Swaledale Runners in particular. Both Jess Young and Grace Gilpin had trained hard, set themselves tough targets – and smashed them! Jess Young produced the run of her life to finish in 3.07.33, 15th out of more than 1000 women and 8th FV35. Grace Gilpin had set herself the target of breaking the 4-hour barrier, having come close at this event in 2018. She paced herself well and really pushed
herself up the final incline to finish in 3.59.03 as 5th FV60. Martin Randall, just 2 weeks after completing the hilly Kielder Marathon, was running to support a friend in her first ever marathon. They finished the course together in a creditable 4.22.50, a great time for a first marathon.
The Langdale Marathon on October 23rd offered a smaller field and a much hillier course to three veteran Swaledale Runners. Liz Sowter was first Swaledaler home, delighted to finish in 4.31.13, 1st FV60 and 8th female out of 32. Julia Spittle, modestly targeting a sub 6-hour finish, also won her age category, finishing well ahead of schedule in 5.21.48 as 1st FV65. Roger Brisley, after completing the Great North Run and the London Marathon, finished his trio of big events for the season just behind Julia in 5.23.13, as 3rd V65.
On October 24th nine Swaledale Runners headed off to the Lockton Limping , the second event in the Dave Parry Lets Run Winter Fell Race Series. Tim Grimwood consolidated his position in the series as 4th overall and 1st V40. There was success for the ladies as well, with Ros Blackmore 1st FV50 and Claire Stewart 2nd FV50. Full Swaledale results from 131 starters, (130 finishers). Tim Grimwood 53.12, 4th, 1st MV40. Neil Bowmer 63.43, 41st, 7th MV50. Ian Oldham 64.03, 43rd, 10th MV45. Mike Keavney 70.12, 63rd, 3rd MV55. Ros Blackmore 72.28, 72nd, 1st FV50. Caroline Graham 78.33, 93rd, 9th FV40. Claire Stewart 81.40, 100th, 2nd FV55. Martha McBarron 93.58, 120th, 3rd FV60. Both Male and Female Teams finished 6th!
Sunday October 10th was one of the most important days in the club's calendar, as we staged the annual Richmond Castle 10K. One of the marshals reported that comments from finishers ranged from 'That was brutal' to 'That's the best 10K in Britain'! Congratulations to the organising team for putting on such a great event. Five Swaledalers competed in the 10K, many of them for the first time: Emily Abbey 46.41, 6th Female, Mark Smith 52.33, Isla Collinge 53.04, Louise Black 53.15, Carrie Morrell 1.12.14.
Here's a link to the results.
Over the last few weeks lots of Swaledale runners have tested themselves over longer distances. The Wensleydale Wander is a popular local event for runners and walkers, with the option of a 12-mile and a 23-mile route. Martha McBarron had an excellent run to complete the short route in 2.22, 4th lady and 11th overall. Carrie Morrell used the event as a recovery walk from the GNR and finished in 4.09. On the long route Jess Young flew round in 3.23, 1st lady and an impressive 3rd overall. She was followed by Derek Parrington in 3.41, Martin Randall in 3.46, Helen Nicholson, Liz Sowter and Heather Hodgson in 4.23, Richard Izdebski in 4.49 and Simon Hewitt and John Cantrell in 5.16.
On September 26th triathlete Carol Murray competed in the Outlaw X half Ironman. It was a challenging course: the lake had 'so much weed it was like swimming through a bowl of salad', the bike leg had 700m on
ascent on busy roads and the run was three loops on varied terrain. Carol was justifiably happy with her result of 6'39.13, 9/21 in her age group, 93/173 female and 565/778 overall.
On October 2nd it rained all day on the seven brave Swaledale runners who tackled the Round Ripon Ultra. 102 runners started the race and 92 finished. Experienced ultra-runner Ros Blackmore was first home for the club in 7.03.27, 39th, 6th female, 3rd FV50. Helen Nicholson, in her ultra debut, was not far behind in 7.29.10, 54th, 11th female, 5th FV50. Shortly afterwards Simon Hewitt, once again in a supporting role, finished with Rachel Ridley in 7.44.45, which placed Rachel as 12th female. John Cantrell, Stuart Clarkson and Julia Spittle also ran together and kept each other going to finish in 8.34.02, with Julia delighted to pick up the trophy as 1st FV60.
The weather could not have been more different for the Grewelthorpe Trail Race the next day. Four Swaledalers competed the 13K course in excellent running conditions. Neil Bowmer was 17th in 1.04.23, Emily Abbey 4th female in 1.12.00, Liz Sowter 11th female and 1st FV60 in 1.19.34 and Samantha Metcalfe flew down the final hill to finish in 1.37.36.
This was also marathon day for thousands of runners across the country. Tim Grimwood is more at home on the fells than on flat tarmac, but he took on the challenge of running the London marathon to raise money for St Nicholas Hospice . He paced his run like a pro, speeding up in the final miles to finish in 3.11.10. Robert Dashwood, who had waited for years to get a London Marathon place, thoroughly enjoyed the experience and finished in 4.29.48. Roger Brisley had also waited for years to run this event and given a recent serious injury he has worked miracles to get to the starting line. He ran
a well-paced first half, but stomach issues left him running on empty later on, so he stoically plodded home in 5.50.43.
Martin Randall completes the Kielder marathon every year, so he wasn't going to let a dodgy ankle hold him back. He finished this hilly course 88th overall in 3.52.14. Another Kielder enthusiast, Niall Cheyne, produced his best performance since 2014 to finish in 5.02.49.
Saturday October 9th saw Tim Grimwood back on the fells at the Langdale Horseshoe. Just 12.5 in length it has an incredible 4600ft of ascent over what the organisers describe as 'a rough, tough course with almost exclusively rocky and slippy ground'. Tim finished 62nd in 3.00.26, followed by an excellent performance from Mike Keavney in 3.29.02 and Ian Oldham in 4.00.22. On the same day Neil Bowmer joined an incredibly strong field on the Yorkshire Three Peaks Fell Race. Conditions were misty but warm and he was pleased to get round in 4.55.40 safely and without incident. Neil was 282nd out of 467 starters.
Sunday October 10th was one of the most important days in the club's calendar, as we staged the annual Richmond Castle 10K. One of the marshals reported that comments from finishers ranged from 'That was brutal' to 'That's the best 1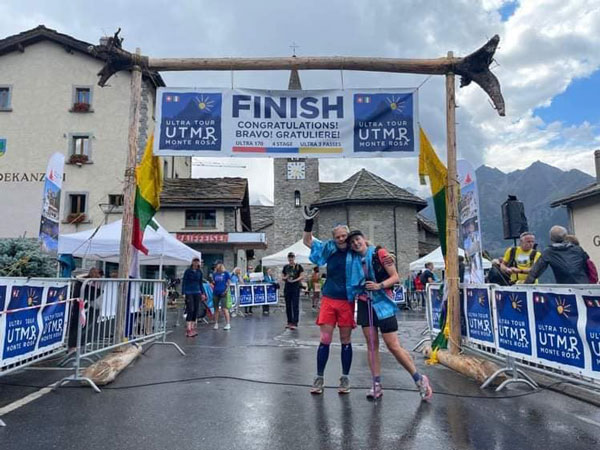 Ian Oldham and Caroline Graham headed off for another alpine adventure at the start of the month, as they took part in the Ultra Tour Monte Rosa. This is a 170K stage race, with a staggering 11,620m of ascent, to be covered over 4 days. It starts in Grächen in Switzerland and follows a classic long-distance path, leading around the Monte Rosa Massif, making a complete circuit of the Mischabel Peaks and the 4000m summits of the Nadelgrat ridge.It is described as 'more technical and more wild' than the UTMB! Ian injured his knee on day two, but managed to run and hobble round the rest of the course with Caroline: 'a holiday filled with highs and lows, literally and metaphorically!'Congrtaluation to Ian and Caroline on another epic achivement.
In complete contrast, Jess Young and Liz Sowter completed 20 laps of a park in Darlington on September 4th, at the South Park 20. Jess had a fantastic run and produced a big PB, finishing as 2nd lady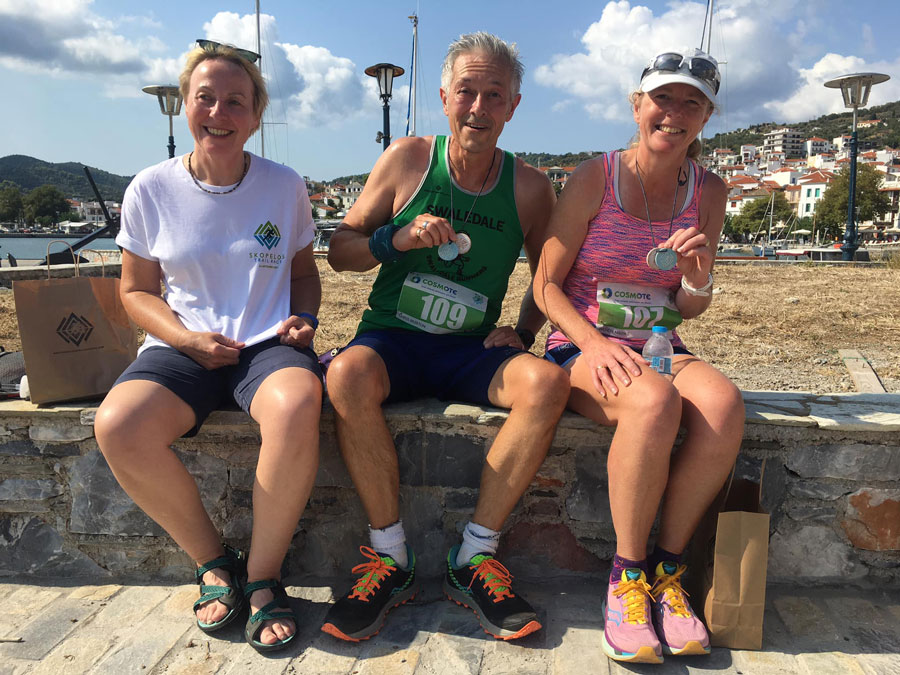 in 2.24.24. Liz could see the race between the top three ladies evolving as they kept lapping her, but she achieved her objective of going under 3 hours, finishing in 2.59.59! While this may not be the most scenic of runs, both found it very useful for marathon preparation and it was a friendly, well-organised event.
On September 5th Jim Coldwell and Tim Grimwood took part in the Burnsall fell race, which is one of the oldest races in the fell running calendar. It covers a distance of 1.5 miles, with 800ft of ascent. Tim was 13th in 16.21 and Jim was 75th in 24.44.
On September 10th Chris and Angela Muston tackled steep slopes in a very different location, on the Greek island of Skopelos. Chris chose the half marathon (21K with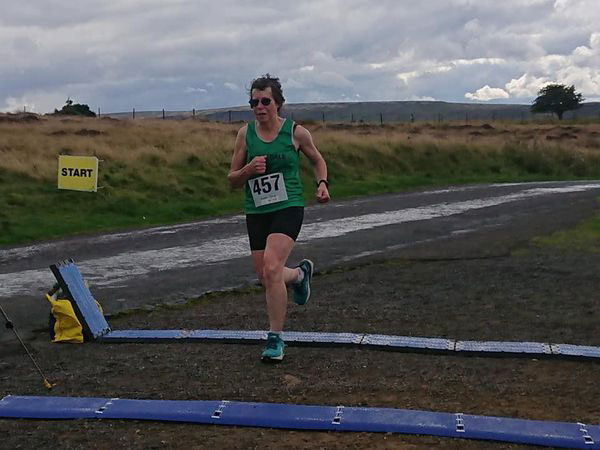 757m of ascent), where he finished 18th overall out of 34 in 2.27.32. He describes the route as 'hard uphill on the first half, virtually vertical climbs towards the top of Palouki. Stones, sage plants, pine scented tracks and a nice downhill second half'. Angela opted for the 5K (with 112m of ascent) where she came 24th out of 30 overall.
On September 11th two Swaledale Runners completed the Castleton Show 6, which is described as 'a road race for fell runners or a fell race for road runners'. Martin Randall, supporting a friend and recovering from an ankle injury, finished in 54.06, while Martha McBarron was not far behind, finishing as 5th lady and 1st FV60 in 55.53, an excellent achievement on this hilly course.
On September 12th Tim Grimwood took part in the Lake District Mountain Trial, a classic mountain navigation race. His verdict on the race was 'tough day at the mountain trial, perfect visibility but a very sweaty day. Mostly happy with my route choice and time but struggled to get going at times.' He completed 23.5 miles with 7,943ft of ascent, finishing 35th in an official time of 6.29.39.
On the same day Andrew Fletcher took part in the Tholthorpe 10K. He finished in 44.34 as 3rd V60, adding to his list of good results for the age-graded club championship. This was also the day of the long awaited Great North Run. First home for the club was Andrew Fahey in 1.32.32, followed closely by Iain Kerr, in a PB of 1.32.55. Roger Brisley, recently returned from serious injury, ran remarkably well to finish in 1.53.52. John Cantrell kept his eyes on the pacer and ran with determination to finish in 1.59.10. It is likely that Lucy Tulloch would also have finished under 2 hours, but she generously stopped to help a collapsed runner and came in at 2.02.01. Carrie Morrell was next in 2.21.05, followed by Sheila Cantrell in 2.25.04. Stuart Clarkson completed his 20th GNR, this time supporting a friend on her first one. They finished in 2.47.23. Just behind them, Claire Hewitt finished her first (and she reckons last ever) GNR in 2.50.02, supported by her husband Simon in 2.50.04.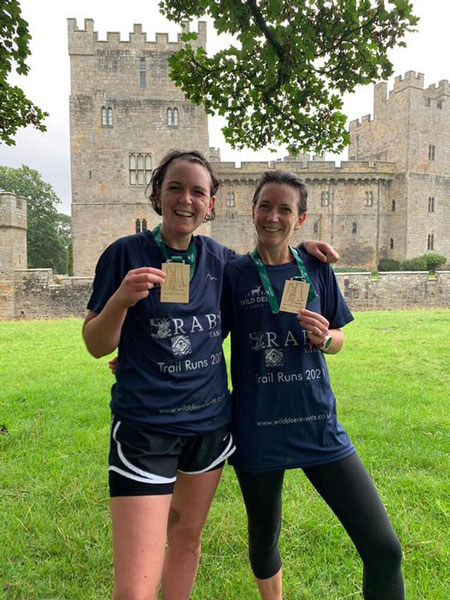 On August 18th Roger Brisley and Julia Spittle took part in the Sessay Swift, a fast flat 6K run which has become increasingly popular and attracted over 300 runners this year. Both Roger and Julia are returning
from injury and were pleased to finish in 31.13 and 33.26 respectively, both round about the middle of their 10-year age categories.
On August 22nd four Swaledale runners headed for Raby Castle to take part in the multi-terrain races organised by Wild Deer events. Isla Collinge had an excellent run to finish the 10K as 3rd lady in 54.42, not too far behind her sister who came in 1st! The others chose the half marathon distance, where Martin Randal was 9th in 1.49.26, followed by Rebecca Pickles in 2.17.43 and Martha McBarron (1st FV60) in 2.25.02.
Runners were spoiled for choice with races over the bank holiday weekend. Martin Randall and Liz Sowter headed to Stanhope, for a hilly 10 mile race organised to raise money for a local charity, Quinn's Retreat. Martin was 14th in a speedy 1.16.44 and Liz was 4th lady in 1.31.17.
In the evening Martin was back in action at the West Witton Fell race. This was a very successful evening for the 'green machine', with Tim Grimwood winning the race ahead of some tough competition in 33.55. He is now the proud holder of a trophy which bears the names of triathletes Alistair and Jonny Brownlee. Not to be outdone, the ladies picked
up the top two trophies, with Heather Hodgson leading the way and Ros Blackmore hot on her heels. Swaledale results: Tim Grimwood 1st 33.55, Neil Bowmer 13th 42.41, Mike Keavney 15th 43.34, Martin Randall 18th 44.22, Jim Coldwell 19th 47.24, Heather Hodgson 47.59 1st lady, Ros Blackmore 48.50 2nd lady..
While Martin was ambitious in taking part in two consecutive races, Neil Bowmer and Ros Blackmore went one better and did three! Fountains Abbey Parkrun and the West Witton fell race on Saturday were followed by the Saturn Running 7 hour event Durham, where they both chose to complete the marathon distance.
On Monday 30th Tim Grimwood and Jim Coldwell headed for the fells one again. In the Hebden sports fell race Tim Grimwood was 18th in 12.59 and Jim Coldwell 70th in 18.01.